Welcome to our dedicated page for CPL Software clients who are now working from home. We will continue to add to this page and to our News page so please do check back every week. We'll also update our social media with help and information so you can take care of business more easily during this time.
If you have any questions or queries, please do not hesitate to contact us – we're available to speak to from 8am – 6pm Monday to Friday and you can, of course email us – Crawford, Karen-Ann, Arran or any of the Support team.
Cloud Server or In House servers for Property Factors and Block Managers
Is there any business that hasn't had to adjust to the COVID-19 situation we find ourselves in? Whether it's restaurants having to adjust to offering take away or delivery, cordoning off non-essential items for many retail stores and of course, many of us now working from home.
Like all businesses, Property Factors and Block Managers are being presented with new challenges. It's something we've also had to work through as a team. We've been asking ourselves, what do we need to do to continue working? What can we do for our clients? What can we do to help our Property Factoring and Block Management clients now? And what can we do to ensure we all come out of this stronger?
Since lockdown, we've been busy helping many of our clients adjust to the new remote set up. From configuring software on laptops, to ensuring that software is accessible and works – it's been a busy period. We have also worked with a number of our clients to move them onto a Cloud based server. This simple and quick choice allows those businesses to access files and do their work efficiently from home.
Most of us will be familiar with a Cloud service as we have this storage facility available on our mobile phone for example. It gives us extra storage for our music, images and documents and it doesn't matter where we are – we can access what we need, when we need it.
However, there are a few considerations to be made when deciding if a Cloud based server or an In House server is right for your business. We've curated a handy list to help you decide which option is best for you.
Please click here to read the full article
If the COVID-19 pandemic has caused you to reconsider how you run your Property Factoring or Block Management business, please get in touch with our UK Based team today. We welcome an informal, no obligation chat if you need to ask questions about Cloud servers, automated processes or business strategy for now and the future.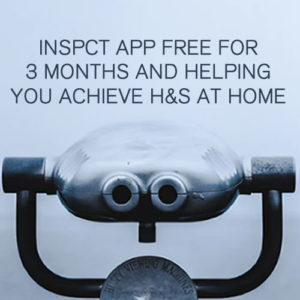 Health and Safety whilst working from home
Setting up a home office so quickly will have been, and will be presenting challenges for many. One aspect that we need to take care of is ensuring the health and safety of staff who are now working from home.
At home, your staff will be set up at desks using chairs that you may not have supplied and using equipment that's not been set up by your team. Perhaps it's not possible for you to visit to do a health and safety check such as the Display Screen Equipment.
For any essential inspections or reporting that still needs to be taken care of, we are providing you and your team with the use of the INSPCT app for free for the next 3 months (until 30th June 2020). The app will be pre-populated with a standard DSE checklist and Working Home Safely checklist which your staff can do by themselves at home. This will help ensure the health and wellbeing of your team whilst they work from home.
If the INSPCT app would be helpful for your team and your business at this time, please contact us and we can organise this for you.
Read our News page for the latest updates
Taking care of business with extended opening hours
From the 1st of April 2020 we will be providing extended opening hours for you and your team. The CPL Support Team will be available from 8:00 am until 6:00pm Monday to Friday to assist with home working. We will run this as a trial through until 31st of May 2020 at which point we will re-evaluate the additional hours and whether these need to be curtailed or extended. Our online portal for logging tickets and our Knowledge Base are both available online 24/7 – so please do make use of these resources. As always, the support number to contact us is 0345 646 0240, choose Option 1.
Free webinars to help your team
The COVID-19 pandemic has provided us with new challenges and a need to adapt to a different way of working for the foreseeable and until this situation goes. Which it will. Until it does, we know that most of our clients will be working from home. We would like to offer as much help and support as we can during these challenging times.
With that in mind, our team has got together to figure out how we can best help you and your business to navigate these next few weeks or months. In doing so, you may just come out of this situation stronger and even more capable than before.
We have scheduled a range of free Webinars for you and your team, for as many people to join as you need.
We have sent an email to Superusers and you can read our full article about the free Webinars here
To view the Webinars and to register, visit our dedicated page here
We're here for our clients everyday and we're helping them to navigate working from home more efficiently and effectively.
We're also aware that there are many more Scottish Property Factors and English, Welsh and Northern Irish Block Managers who may need our help to do the same. Help to work more efficiently from home. Whether that's Cloud solutions or implementing changes to business processes to suit today's demands – we're only a phone call away. We are a small, friendly UK Based team who are also navigating the challenges of working from home! We hope to speak to you soon. Call us today on 0345 646 0240, or email info@cplsoftware.com
Please contact any of our UK Based team to have a chat about any issues you may be having.
Taking care of you and your team with CALM
The lovely people at the CALM app are sharing a range of resources to help us manage our mental health and wellbeing at this strange time.
"Without a doubt, many of us are feeling anxious as we navigate the uncertainty of COVID-19. We're feeling it too, and we wanted to share some of the tools we're using to take care of our minds and stay grounded.
All of the resources on this page are free of charge — please share with anyone who might benefit.
Enjoy this curation of content hand-picked to support your mental and emotional wellness through this time. And check back soon as we'll be updating these resources regularly."
Click here to access their blog and free resources to share with your team if they need it.