Welcome to the second 2021 edition of the Properly Newsletter from the team at CPL Software.
We hope you manage to take a bit of time out of your day to have a cuppa and a scroll.
If you have any questions or queries about anything you read, please do not hesitate to contact us
We're available to chat from 9am – 5.30pm Monday to Friday.
And you can of course email us – Crawford, Karen-Ann, Myk or any of the Support team.
As we write this second edition of the Properly Newsletter, the sun is shining, it's a beautiful Spring day and by the time this edition drops in your inbox Easter will have been and gone, so we hope you all had an enjoyable break.
We've got another packed edition of the newsletter for you.
So, permission to procrastinate. Grab your beverage of choice and take 5 to get up to speed on what's happening with your software.
Warm and healthy regards,
Crawford and everyone at CPL.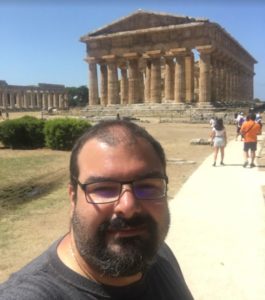 As you may have guessed, Ioannis is Greek, from the beautiful island of Lesbos. He previously worked for Vauxhall-Opel, providing first line support on the OnStar project. He has studied Ancient History in Wales.
Please join us in welcoming Ioannis to the team.
How could you waste time better?
You may remember in the last edition of Properly, we said we would be launching the new repairs and maintenance app, Blockworx, in March.
To quote the Scottish bard, as with the best laid plans o' mice and men, ours did in fact gang aft agley. We're not even sure that makes grammatical sense, but you get the gist.
However, the best things do come to those who wait. And we are glad we held back on the launch of Blockworx until May the 4th (you can blame Crawford for the Star Wars day reference).
We weren't happy with how the app was looking in March and we knew we could do better. The pilot was going very well and we were receiving brilliant and much needed feedback from the contractors and property managers using the app.
By extending the pilot phase and delaying the launch we are able to be confident to tell you that:
Almost 100 contractors are now on board and using or beginning to use either the Blockworx Web Portal, the Blockworx App or in many cases both.
–
The pilot phase has given us 6 months of data and we know you can save between 3 and 4 minutes on every invoice you process using Blockworx.
If you process only 50 invoices per week (10 per day)
that's 800 minutes per month, or
over 13 hours, or
2 full days per month saved
This is a massive saving based on very conservative numbers of invoices processed.
–
You will reduce human error: The speed of processing and accuracy of information processed is helping to reduce human error and making the whole process so much more engaging for both property managers and contractors.
–
We've also taken the time to update the Blockworx website with lots of information to make it even easier for contractors to use the web portal and app.
We've been working hard to ensure this is an industry leading app with an easy to use interface. And we're getting more and more contractors on board every week.
We really are focused on making Blockworx something you'll wonder how and why you ever managed without it.
The app launches on the 4th of May.
Drop Crawford an email, or give him a call to register your interest or if you're keen to get started.
You can access a wealth of information about your software on our Knowledge Base?
Karen-Ann has been working hard to update and improve the Knowledge Base. This amazingly useful resource has a wealth of information which is quite literally at your fingertips.
It's the perfect go-to destination when you have a question or query about your software.
Use the free search if you know what you're looking for.
Or you can browse a range of documents and information including:
It's perfect for when you need a quick fix, or checking before logging a ticket with the Support team as the answer may just be there. It's also a fantastic way to brush up on skills and knowledge if you don't have time to book formal training.
We've had great feedback so far from people who have made use of the Knowledge Base.
Visit and take a look around and of course, let us know your feedback or suggestions.
Would you like us to organise an online user group session?
Until such times as we can organise meetings again, we'd like to know if there is an appetite for bringing the user group online?
Our user group was very well received and we certainly gained a lot from it.
Please register your interest by going back to the email we sent you and using the voting buttons, or you can drop an email to Crawford with the title, 'online user group' and let him know your thoughts.
Thank you!
That's it from us folks! Thanks for getting to the end and if there's anything you've read that's peaked your interest, we're here to chat or drop us an email. We look forward to catching up with you soon!